Whether you're planning your next trip to the wilderness or preparing for emergencies, a good survival watch is essential to have on hand. More than a fashion statement, it can be a reliable precision instrument that can save your life (for real).
Besides a knife, compass, and a dog, a watch may be your most useful piece of survival gear – provided it's durable and rugged enough to withstand the harshest of environments. So leave your smartwatch at home – these watches are guaranteed to outlast any of your other survival gadgets.
If you short on time and only here to know which watches are the best for survival, my top choice would be this one. Rangeman by G-Shock is practically indestructible, solar-powered, looks great and prices more than reasonable. Otherwise, read on for more options and details.
Do you have a particular question about survival watches? Then use the table of contents below to jump to the most relevant section. And you can always go back by clicking on the black arrow in the right bottom corner of the page. Also, please note that some of the links in this article may be affiliate links. For more details, check the Disclosure section at the bottom of the page. 

Best Survival Watch: My Top Choice 
If you had to go on the run tonight, the G-Shock Rangeman should be in your bug-out bag next to your passports, cash, and maybe a knife. Whether you're considering to evolve into Rambo or stalking a wild boar, you're going to want a bulletproof, functional, and robust wristwatch.
Unlike cheaper G-Shocks, the Rangeman takes it to the next level. It's got solar charging, so you won't have to replace the batteries every 1-3 years like you would on a Luminox. It will stay 100% charged with just a few hours of sunlight per day.
Besides always having power, the G-Shock Rangeman is also going to be extremely accurate. That's because it has Multi-Band atomic timekeeping (AT). This means that the G-Shock will sync up to the nearest atomic tower at least once per day and automatically set itself. This is a big bonus over mechanical or regular quartz watches, which gain or lose accuracy and be reset by the end of the week.
With the combination of indestructibility, atomic timekeeping, and solar power, these will keep ticking no matter what. Besides these features, the Rangeman also has an accurate digital compass for navigation and setting azimuths, a barometer for detecting incoming weather changes, a thermometer for measuring the temperature, an altimeter to track your elevation, as well as a stopwatch, countdown timer, multiple time zones, and sunrise/sunset times.
After all, the G-Shock Rangeman is purpose-built for rangers and rescue crews, and it's even one of the few watches worn by the Special Forces. If you want survival, you can't do much better.
Pros
Rugged and indestructible
Full of survival-critical features
Solar-Powered
Self-Setting atomic timekeeping
Cons
The large size and not light – not suitable as an everyday watch for small wrists
Sunrise and sunset indicator font size is small
The negative version of this watch (black and tan) has low readability
Needs to be removed from wrist for 1 hour to get an accurate temperature reading


Best Cheap Survival Watch
If you're looking for a budget survival watch without all the bells and whistles, Casio has you covered yet again. The F-91W is one of the most recognizable and versatile watches in the world. First introduced in 1989, it's been the favorite of many students, soldiers, presidents, and even a few bad guys from all over the world. Even though throughout the times, the design has remained totally unchanged.
If your budget is a concern, the F-91W will serve you well as a wristwatch on your many adventures. It's not indestructible, but it's only a few dollars for a new one in worst-case scenarios. Furthermore, it's a million times better than having no watch at all, so that should never be an alternative.
Along with its universal versatility and retro design, the Casio F-91W can accurately tell the time, has a day and date display, and features a stopwatch, countdown timer, and alarm. 
It's also famous for easily being made into improvised explosive devices (IEDs) by terrorists. Many Guantanamo Bay inmates were identified as Taliban and Al-Quaeda by the F-91W on their wrists when they were captured. Now that's a stellar reputation by death-dealing survival experts. (Not a call to action though). 
Pros
Super affordable
Retro design that is never out of fashion
Has all the essential functions of a digital watch
Cons
Not so durable
Nominal water resistance (can't go deeper than a pool)


Best Solar Survival Watch: Casio ProTrek
If you're ever going off the grid, you know that you can't rely on smartphones or smartwatches. Those marvels of civilization must be continuously plugged into the power grid or hooked to a cell tower, and have the added detriment of broadcasting your location to unscrupulous agents.
For a self-sustaining and self-sufficient watch to aid you in your survival escapades, the Casio Pathfinder (AKA Casio Pro Trek in some markets) has you covered. This is a professional tool favored by special operations forces navigating dangerous and unknown terrain.
Like the G-Shock Rangeman, the Casio Pro Trek has an impressive slew of useful features, such as a triple sensor (altimeter/barometer, thermometer, and digital compass). However, the Pro Trek benefit is that it stores the historical measurements for these sensors in its internal memory. It's easy to see if the reading has increased or decreased with a handy and easy-to-read graph display. So you can tell if the barometer is dropping, altitude is rising, or how far you're straying off the plotted azimuth for a quick recalibration.
While it's favored by many military personnel, it should be used as a backup to a proper lensatic compass if navigating. But if you fall off a cliff, lose all your gear, and are running for your life with only half a shirt on your back, this is the perfect survival watch to get back home safely.
Pros
Large, crisp digital display
Ideal for navigating
Lots of professional and survival features
Solar-powered so the battery will seldom get used
Cons
Setup and learning all the features takes time
Compass requires calibration, which may be too technical for some
Large size may not be suitable for smaller wrists


Best Analog Survival Watch
Sometimes, less is more – and simplicity is more utilitarian than complexity. For a quality analog survival watch, you'll want to pick up the Seiko Solar SNE329. It's a handsome men's wristwatch from a top-tier Japanese watchmaker, so you know it'll hold up better than any alternative in its price range.
The SNE329 is designed in a classic "Explorer" style (Arabic numerals for the major markers and bar markers for the rest), made famous for reaching the top of Mount Everest on the face of the Rolex Explorer. The design is favored by outdoor enthusiasts, hikers, and survivalists for being easy to read the time at a glance.
This watch features Seiko's solar power technology, which gives it 10 months of power from a full charge. So you don't have to worry about it stopping as long as you come out of the cave once every few weeks. It's also got 100m of water resistance, which will keep the movement dry as long as you don't deep dive with it.
Finally, I want to reiterate that it's a beautiful watch. The sunray dial that both captures and reflects light will make a Zen vacation of your idle days of waiting for a response to your SOS signal.
Pros
Day and date indicator
Simple 3-hand time display
Solar-powered
100m Water Resistance
Cons
Hardlex Crystal is not scratch proof
Would be better-looking in a 40mm size, but 43mm is not terrible


Best Luxury Survival Watch
For the ultimate luxury survival watch, you're going to want the Breitling Emergency on your wrist. It's not just an analog-digital hybrid ("ana-digi"), a compass, a chronometer (top-tier accuracy), and a chronograph (stopwatch). This Breitling has a built-in personal locator beacon, so rescue teams will find your exact position.
According to RAND, there's a short "rescuability window" for downed pilots, which is the problem that Breitling aims to solve. Breitling is a luxury Swiss brand that specializes in making aviation watches for professional pilots. Many are huge, and the Emergency is no exception at 51mm. They're also very expensive. 
But what price would you place on your safety? Surely 10-20k is nothing compared to your life.
With the rotation of a specialized crown, the Breitling Emergency will emit a dual-frequency distress beacon, whether in the air, land, or sea. This is designed for rescue teams to home in on your precise location and complement standard onboard aircraft equipment from your wrist.
If you find yourself in an occupation where you're likely to crash land and in the market for a luxury survival gadget, nobody makes anything that can come close to the Breitling Emergency.
Pros
Personal locator beacon for search and rescue crews to find you
COSC-rated quartz Chronometer
Professional pilot and survival tool watch
Analog-Digital display
Cons
Luxury price tag
Huge size at 51mm
Moderate readability


Best Paracord survival watch
Generally, it's not a good idea to pick a watch based on the kind of strap it has, but the Samor Paracord is a special package. As a watch, it's got a mil-spec look to it and has an ana-digi display. But the survival accessories are where it truly shines.
The paracord strap (aka "550-cord") on the Samor can be disentangled and used to create a shelter, bandage wounds, and secure equipment up to 300 pounds. This first strap has an integrated whistle, fire starter, scraper, compass, and thermometer.
The second strap is an adjustable silicone band; strap changes are quick and easy with the included tool.
Lastly, the Samor comes with a "paracord grenade" strap option, which includes tons of survival gadgets: aluminum foil, alcohol pad, fishing weights, scraper, whistle, thermometer, and a bunch of others.
It's certainly not quite practical as an everyday watch. But throwing one of these bad boys into your bug-out bag could come in handy when you're rummaging through it on the dark steppe after the bombs go off.
Pros
Tons of survival accessories included
Three straps with a strap-changing tool
Makes a great gift
Cons
The paracord straps are not adjustable, and will only fit wrist sizes of 7-9 inches
The watch itself is unlikely to last for more than a year


Best EDC Survival Watch
For a survival watch that you can also wear to the office and the classroom, an EDC choice like the Timex Expedition is your ticket. There are many variants of this watch, but they all have one thing in common: built for the outdoors while remaining fashionable indoors – hence the "Expedition" name.
Timex is the last American watch company and has been making watches for over 165 years, including watches issued to the US military in the' 70s-'90s. Today, they're having a resurgence in the retro-styled (and affordable) field, and dive watches to the delight of enthusiasts.
The Timex Expedition featured here is a close cousin of watches worn in World War II and the Vietnam War by Allied and American troops. It's a legit field watch through and through – from the leather strap to the Arabic numerals and 24-hour inner numeral dial, and the style of hands and date window.
The bottom line is that this wristwatch has a military history – the ultimate test for survival tools. Also, it flies under the radar enough to be an ideal EDC watch. At 39mm in diameter, it's the perfect size to be your everyday carry companion.
Pros
Ideal size at 39mm
American company
Military aesthetic and history
Will look great on many different straps
Cons
No advanced functions other than time and date
Nominal water resistance
Passable leather strap


Survival watches FAQ 
What is a survival watch?
A survival watch is a timepiece that you can use to aid in keeping you alive when on the run, off the grid, or in an emergency situation. Generally, it can be any watch that does its job well, provided that you know ahead of time what it should be. E.g., is it just telling the time, or also tracking the altitude. Technically speaking, certain aspects make some watches a better survival tool than others.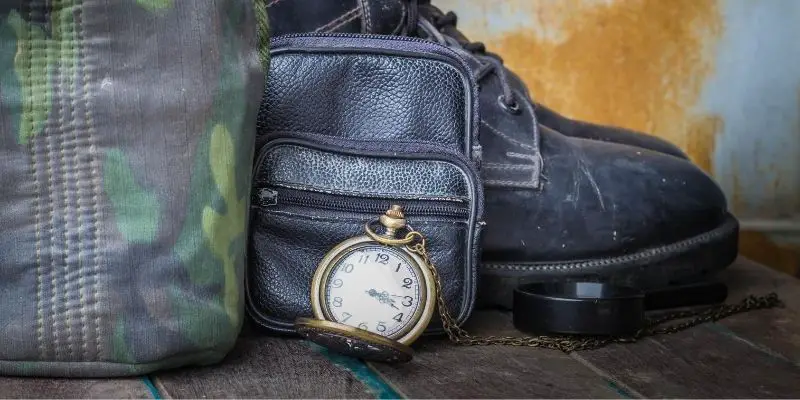 What makes a good survival watch? 
A good survival watch will have a set of specific features that make it stand out over fashion watches or luxury mechanicals. Here's the list that will get you started:
Toughness. It has to be robust against daily wear and being whacked against a tree.
Durability. You should be able to wear it for a few years straight without worrying about it dying from shock or battery life. It should be able to stay on your wrist 24/7 until you get back to civilization.
It should have an adjustable strap since your wrist size will change with variances in outdoor and body temperatures. However, this will generally be the first part of the watch that will fail, so expect it.
Solar power. For a survival watch, you can't rely on a 1-3 year reported battery life, being ready to toss a watch when it dies since you can't repair it in the field. Instead, you need to always rely on solar power – the one readily-available resource you'll find anywhere outside a cave. Furthermore, the more features a watch has (barometer, compass, etc.), the faster the battery will drain. For this reason, always insist on solar power for your watches.
Quartz Movement. While mechanical watches are fascinating, they don't make great survival watches. First, they will always gain or lose accuracy and need to be reset about once every week or two. For a proper survival watch, you can't rely on having another time reference. So you must depend on your watch to be the most accurate time reference you carry. As such, opt for quartz. Even better, opt for a quartz radio sync watch so that it will always be accurate. This is why the G-Shock Rangeman is the top choice on this list.
Legibility. A good survival watch should be easily read – both in the day and at night. Make sure that the watch you have for these emergencies doesn't have a bunch of unnecessary junk obscuring the dial; less is more. For this reason, the Seiko Solar and Timex Expedition make great options for quick on-the-go readability.
How to use a survival watch? 
Your survival watch is a tool with a specific function. Its primary purpose is to tell the time. Its secondary task is whatever other functions or features it has, such as a hidden blade or a digital compass.
Like any tool, you need to familiarize yourself with how it works before you need it. Unless you think you'll be okay with reading a tiny-font manual in the dark woods while the dogs are on your trail.
Generally, the more features a watch has, the more complicated the manual. As a basic rule, you should know two things:
First is how to set the time. Read the manual if you're new to watches.
Second is how to use your analog watch as a compass. This video offers a clear demonstration of the latter:
How much does a good survival watch cost? 
A decent survival watch is going to cost anywhere between $50 to $250. Anything less than that, and it's going to break within a few weeks or months. Anything more than that, and you're paying for marketing.
At the end of the day, spending more money isn't going to get you a better survival watch than the G-Shock Rangeman, no matter how you slice it.
Tips for choosing the best survival watch?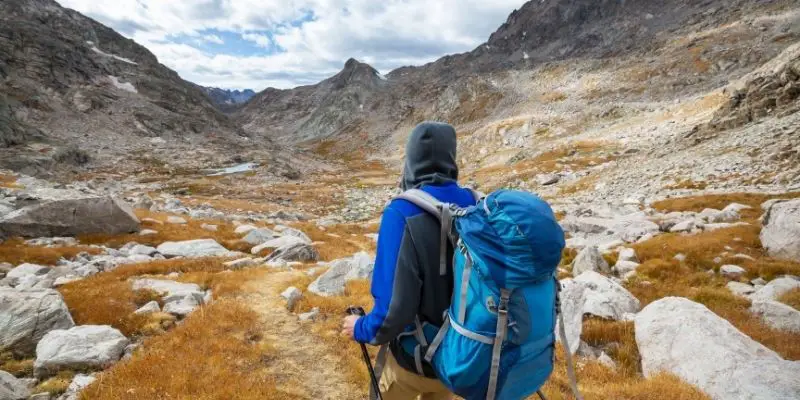 It goes without saying that a good survival watch is no replacement for survival skills, training, and grit. Training and practice of survival skills are more valuable than any watch. Maybe you can trade a Rolex for the (temporary) services of a suspicious mercenary, but beyond that – you're on your own. That's what it means to survive.
The best tip for choosing a survival watch is to simply buy one. Not having one is worse than having 10 good tips. I've narrowed all the best choices for you down to 7 professional-grade and military-grade options to aid in your survival. All you have to do is pick one.
Decide on your price point for the investment, which features you require, and the aesthetic you prefer.
By the way, don't bother trying to get a digital compass and altimeter watch for $40 – you're going to get a useless paperweight that doesn't even tell the time. At the end of the day, you can't go wrong with a G-Shock.
Credits: Thanks for the photos to Envato Elements

At ipoki.com we only mention the products that we've researched and considered worthy. But it's important to mention that we are a participant of several affiliate programs, including Amazon Services LLC Associates Program, an affiliate advertising program designed to provide a mean for us to earn fees by linking to Amazon.com and affiliated sites. As an Amazon Associate ipoki.com earns from qualifying purchases.