Are you into camping or outdoors or love to have a backup plan for every possible situation? Or maybe you are looking for opportunities to save money on your water and electricity bills? Then a portable shower might be something you consider purchasing. In this review, I've come up with the best options for different requirements. Whether you are looking for a solar-powered or battery-powered, cheapest, handheld, or gas camping shower, I have great suggestions. 
Let's dive into the details now.
Do you have a particular question about portable showers? Then use the table of contents below to jump to the most relevant section. And you can always go back by clicking on the black arrow in the right bottom corner of the page. Also, please note that some of the links in this article may be affiliate links. For more details, check the Disclosure section at the bottom of the page. 

Best portable shower of all
You can charge this portable shower with your vehicle's cigarette lighter socket or a battery. Its filter system guarantees clean water. Moreover, you can hook it up using the provided hook and suction cup onto a tree or your car window.
You can charge the 2200mAh Rechargeable Lithium Battery of this portable electric shower with a 5V USB charger conveniently. Both come with the product.
 A fully charged battery will run this device for about 45 minutes straight. With 3.5 L/min, this multi-purpose shower offers a smooth water stream suitable for indoor and outdoor use.
The premium features, long-lasting battery, versatility, and fair price point, make it the best portable shower of all.


Best portable camping shower
This one is equipped with an even more powerful 4400mAh rechargeable battery. With a life of up to 80 minutes, this portable shower is easy to set up anywhere. It provides a gentle shower stream of water for multiple purposes at 3L/min low stall and 4L/min high stall.
Besides, the shower has LED lights, so you can shower conveniently at night as well. Just press the power button and hold for 3 seconds to turn on or off the lighting function.
Plus, this waterproof shower is easy to set up and has a simple and effective hook for convenient placement.
 With the ease in assembly and use, lights for enhanced visibility, and long battery life, this portable shower is best for your camping trips.


Best solar powered portable shower
The most impressive feature of this portable shower is that it harnesses the sun's energy and provides you with a hot soothing wash. Plus, the durable 4-layered construction enables perfect heat retention for optimal performance.
But on top of it, this inflatable shower takes minimal space. You just have to fill this with water using the easy-to-use fill valve and place the transparent side towards the sun. The water temperature gauge will show you the temperature, and solar cells warm up the water.
Plus, the ON/OFF shower head lets you save water for others as well. The handle has a wide comfortable grip for easy transport. And the bag is filled with 2.5 gallons of water ready to be used for multiple purposes.

Best battery powered shower
This portable shower has a high-energy built-in battery with 4800 mAh energy storage capacity along with a low-battery indicator. The rechargeable lithium battery has an LED light that is turned off when it is fully charged, enabling safe charging. Plus, it has 4L/min high and 3L/min low water flow modes.
It's easy to carry, easy to use, and a compact shower that you can put in your backpack, luggage, or car trunk. The compact and efficient design allows you to use this shower for watering your garden, bathing your pets, or taking a shower yourself while camping or traveling.


Best portable electric shower
This electric shower stands out with a 5-gallon water tank along with a layer that separates wet and dry parts. You can charge the 12000MA large-capacity battery at home or in your car by using a 100-240 household charger or a 12-V car charger.
Besides the water tank, there are two additional water bags of 2.5-gallon capacity, so you never run out of clean water.
It is equipped with three separate showerheads. These give you the luxury of bathing your pet outdoors, cleaning your car with a high-pressure gun, or watering your plants with a specialized garden sprinkler. 


Gas camping shower
This propane heated camping shower lets you take a hot bath, wash dishes, and utilize warm water in various situations. You can power it through the RV outlet or car lighter and control the water temperature with a knob. The temperature indicator at the front tells you the water temperature and stops at 130°F to prevent overheating. Plus, it is equipped with a water-flow sensor and a fuse switch, providing safe hot showers while camping.
The package comes with a carrying bag and three adapters. Plus, you get a showerhead and a hand faucet in addition to hoses, attachments, and adapters for easy setup and use. So, all in all, complete set for an ideal camping experience.


Handheld portable shower
This handheld portable shower is so compact that you can literally carry it in your backpack.
 It comes with a suction cup and an S-shaped hook for convenient placement, offering a hands-free experience. 
You just need a water bucket or any clean water source to shower, give your pet a bath, or wash your car. The water stream is gentle and so suitable for elders, children, and pets too.
You can charge this handheld portable shower's pump with any USB port. A fully charged 2200mAh lithium battery provides a continuous 1-hour water stream. If you are on the road, you'll need a 12V USB car adapter, which directly charges the shower from your car's cigarette lighter. However, it should only be charged with a 5V adapter or less.


How does a portable shower work
A portable shower is your travel companion that works either on battery, electrical power, or harnesses sun-energy. The pump in the shower drives the water to the showerhead. You can hook it up on a tree, attach it to your car window, or hold it in your hands and take a quick bath. And, the higher the battery capacity, the longer you will be able to use the shower.

4 reasons to buy a portable shower
Easy to carry around and install anywhere. You can carry it around in your car, or sometimes you can put it in your backpack. It's pretty easy to set up, use and is built for taking on-travel showers.
You are into survival gadgets, camping, and outdoors. While traveling or camping, you naturally catch dirt that needs to be cleaned to feel fresh again. A portable shower comes handy in such situations. 
Versatility. You may use portable showers in so many ways. Depending on device configuration, you can shower yourself and wash your car, pets, water your plants, etc. 
Economic benefits and sustainability. You might even want to use this gadget to cut off your electricity and water bills. If you are opting in for a solar version that harnesses the rainwater, the portable shower may even pay for itself pretty quickly.

How much does a portable shower cost?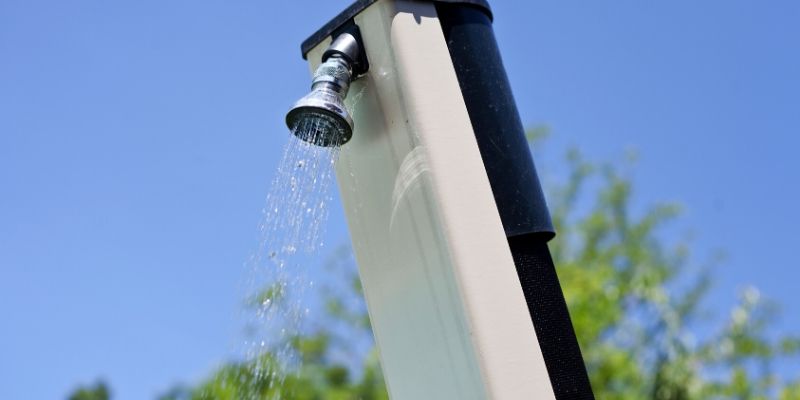 Depending on the features and quality, the price of a portable shower may vary. However, a general trend is around the 20-200$ range. The difference that causes this price variation can be attributed to the energy source (sun, electric, or battery), the water capacity, the quality, and versatility of the shower. 

What to look for when buying a portable shower?
While making your purchase, consider how you would want to charge it. Be mindful of the water capacity, ease of use, portability, showerhead configuration, water stream speed, and price.
The shower should be easy to set up.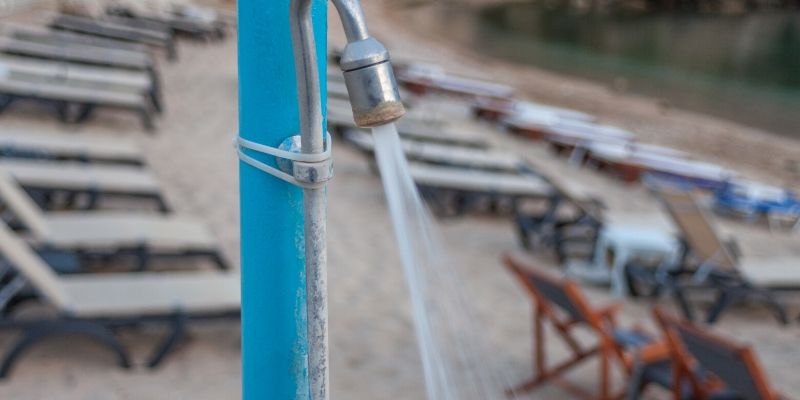 Plus, there should be multiple options for hooking the shower up on a tree or your car so that you don't always have to use your hands to hold it.
The water stream should be strong enough to clean and wash effectively. However, consider an optimum speed shower if elders, children, or pets take a bath.
Finally, the price should not break the bank; however, don't just go for the cheapest one. A good quality shower with a reasonable price point will pay for itself in the long-run as its usually built to last.
Credits: Thanks for the photo to Canva.

At ipoki.com we only mention the products that we've researched and considered worthy. But it's important to mention that we are a participant of several affiliate programs, including Amazon Services LLC Associates Program, an affiliate advertising program designed to provide a mean for us to earn fees by linking to Amazon.com and affiliated sites. As an Amazon Associate ipoki.com earns from qualifying purchases.